On Behalf of Norton Healthcare, we would like to provide you with a Meal Box (or Flower Box) of your choice. Please fill out the form above and select your box choice. We will coordinate with your HR Team Lead to have the item shipped to your home on the appropriate day.
From all of us at Fork&Flowers, we hope you enjoy this special treat! Please let us know if there is anything we can do to improve your experience. We are here to make your life, simply better!
Recent Reviews
First off the food is delicious! I was downtown in our office until after 5 today.  By the time I fought traffic to get my kids in Hillview from my in laws it was 6.  By the time I got them home it was 6:30.  Under normal circumstances I would've gone through a drive thru for lack of time.  Instead, I was able to throw the bags into the water while I unpacked their bags, unloaded the dishwasher and everything else I do when I get home.  Then a decent dinner was ready, and we didn't have to eat something bad for us.  This is totally different from a box you have to unpack and still cook for 30+ minutes.  This is amazing!
-Rebecca, Mom & Wife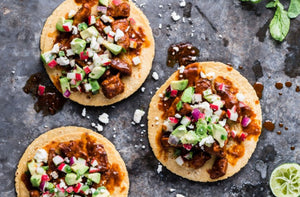 gIFTEE GALLERY
See what others have to say and follow on social media for monthly promos and special offers!
Follow us on Facebook
Check out all of Our Fork&Flower Boxes